Samuel Shocket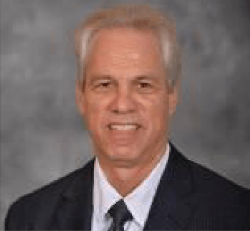 Sam is the President of King's Jewelry & Loan. In 1976, Sam took over the business from his father, who established King's in 1945. Since taking the helm at King's, Sam has guided the company and fostered its growth to its current status as California's largest pawnbroker and North America's largest jewelry-only pawnbroker. He is recognized internationally as an innovative leader, with a reputation for excellence. Sam serves as a prominent elected leader on the boards of several State and National industry associations.
Marco
Marco graduated from Lincoln High school and is a Certified Diamond Grader from prestigious Gemological Institute of America (GIA). As the General Manager, Marco is responsible for overseeing all production functions of the business. He coordinates the development of key performance goals of direct reports and company sales goals. He oversees implementation of policies and procedures. A major part of his job involves leading and directing key managers to pursue targeted goals and company objectives. Ensure overall delivery and quality of product and service to the customer
Paul
Paul's relationship with King's spans over 40 years! He originally joined the King's Jewelry and Loan family in 1972, where he began working as a teenager in high school. Paul continued working for the Shocket family business throughout his entire high school and college careers. After graduating from a local college with a BA Degree in Sociology, Paul entered the law enforcement profession as a police officer where he spent over 30 years as a Law Enforcement professional rising to an executive-level position in one of the State's most prestigious police departments. After retiring from law enforcement in 2015, Paul rejoined the King's family as its Loss Prevention/Risk Assessment Manager where he monitors and manages the safety and security of King's personnel, and company and client's assets and he remains strongly committed to preserving the high level of service and integrity that he was known for throughout his law enforcement career.
Chuy
Jesus, better known as Chuy, has been in the pawn industry for over 18 years. A veteran of the United States Navy during Operation Desert Storm, He holds an AA degree in Liberal Studies. Chuy has completed Diamond Grading with the prestigious Gemological Institute of America (GIA). A sports enthusiast, he has a vast knowledge of memorabilia and collectibles. He also brings extensive knowledge and other skill sets into his sphere of responsibilities as a leader within the company's management team.
Ramona
Ramona is a GIA Graduate Gemologist, as well as a member of the Phi Theta Kappa honors society. She has an extensive 30 year background in the financial industry. As the company's Operations Manager, her responsibilities include developing and maintaining policies and procedures for the general operation of the store. As our Compliance Officer, Ramona monitors the performance of the Anti-Money Laundering Compliance Program and related activities.
Gonzalo
More than 20 years ago, Gonzalo was approached by our General Manager, Marco, who told him, "I need you to come help me out." That launched Gonzalo's journey with King's Jewelry and Loan, and he's never looked back. Gonzalo is an Accredited Jewelry Professional and Diamond Graduate of the prestigious Gemological Institute of America (GIA). Gonzalo thoroughly enjoys working at what he feels is the finest and most respected pawn shop. Gonzalo has made the promise, "I always make a huge effort to ensure each loan client, and our buying customers, are fully satisfied with their experience at King's."
Jorge
A thirty year veteran of the jewelry industry, Jorge joined King's more than twenty years ago and brought a level-headed professionalism very much appreciated by our staff, management, and clients. Jorge is an Accredited Jewelry Professional and Diamond Graduate of the prestigious Gemological Institute of America (GIA). He has been a huge part of King's phenomena growth and was on the front lines working hard as our company grew into a world-recognized leader in the pawn industry. Jorge is a member of our management team and is both appreciated and respected by our valued clients.
Javier
Javier has been a valued employee of Kings Jewelry and Loan for more than 20 years. A new employee on the ground level, Javier quickly advanced as he earned the trust, respect and admiration of the company's leadership; and ascended to one of our top managerial leadership positions. Javier often describes our borrowing clients as very special good people needing our assistance from time to time. His excellent taste in fine jewelry is well- reflected in consistent client satisfaction, as he brings a professionally tailored approach to assist clients in finding just the right piece. He is currently enrolled in the prestigious Gemological Institute of America (GIA) pursuing additional knowledge and certifications.
Janet
Janet has worn a number of important hats in her more than 16 years as a member of our team at Kings Jewelry and Loan. She is our Inventory & Quality Control Manager and also serves as one of our Store Managers. Holding a Bachelor's of Science Degree in Sociology from the University of California Riverside, Janet was formerly a new employee training specialist with the company. Janet's status as a Diamond Graduate and an Accredited Jewelry Professional, accredited by the prestigious Gemological Institute of America (GIA), also offers us excellence as she serves as King's Official Appraiser.
Rudy
Rudy has been with King's Jewelry and Loan for 20 years and has been mentored by the best in the industry. He has taken various educational courses by GIA. He builds strong relationships with vendors and the most reputable repair specialists in the industry. He is very knowledgeable & passionate about luxury watches.
Balbina
Balbina has been a staff member for 24 years at King's Jewelry and Loan and is an accredited jewelry professional and diamond graduate of the Gemological Institute of America. She helps customers and assists them in both our loan and sales department. Her goal is to ensure our customers receive the utmost service and a gratifying experience.
Marco (Doc.)
Marco has a degree in International Relations. Marco is King's HR Administrator and some of his responsibilities include recruiting, screening, and interviewing new employees. He also assists with payroll, and timekeeping functions as well as employee relations, employee benefits, & scheduling.
Felix
Felix has been in the pawn industry for over 27 years. Felix holds an AS Degree in Computer Information Systems from Los Angeles Trade Technical College as well as a Certificate in International Business Administration and has completed Diamond Essentials at Gemological Institute of America (GIA). Some of his responsibilities include merchandising, creating displays, stocking showcases, and maintaining inventories, as well as supervising sales staff.
Carol
Carol has been with Kings for well over 20 years. Carol is an Accredited Jewelry Professional and Diamond Graduate of the prestigious Gemological Institute of America (GIA). As a Sales Manager, Carol works directly with our staff, clients and management to ensure our customer satisfaction is 100% at every turn. Her continual goal to our clients is a consistently clean, friendly, and welcoming environment. Carol is dedicated to maintaining the privacy, confidentiality and respect for all of King's clients.
Mario
Mario is our newest member on the management team at King's. He's the Social Media manager & is responsible for giving our customers news and information about our upcoming events and sales. Although new to the pawn industry, Mario has taken his vast knowledge and experience of social media & online marketing and applied it to King's Jewelry and Loan. Mario aims to provide a great and reputable online image representative of King's core values.