Jewelry Buying 101
At King's, we believe the more you know about jewelry, the more you will appreciate the quality and tremendous value of not only our merchandise, but your valuables as well. We want you to feel confident that your purchase is exactly what you want, and at a stellar price!
For your convenience, we've included some links below to some of the best informational sites for educating yourself about purchasing jewelry. Just click on the topic below, and a new window will open with that website.
All about the 4 C's of diamonds (cut, color, clarity, & carat), brought to you by the unbiased experts at the Gemological Institute of America.
Whether you're a first time-buyer or maybe you need some direction, these tips will help guide you through the jewelry buying process.
Learn all about the differences between natural, lab-created, imitation and enhanced gemstones, from the American Gem Society
What You Should Know About Fine Jewelry
Everything from learning what 14 karat really means to all about fine watches, from the Jewelers of America.
An up-to-date listing of spot market prices of gold, silver, and platinum, brought to you by CNNFN.
State and National Organizations

Official site of the National Pawnbrokers Association.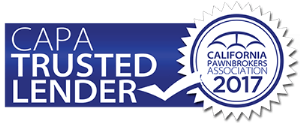 Official site of the California Pawnbrokers Association.